Our story begins like many stories do: with someone on a mission to shed a few pounds. What makes our story different though is that this someone was equipped with a PhD's worth of knowledge and the academic resources to figure out what works when it comes to eliciting behavioral change to achieve personal goals. This someone was Dean Karlan, a Professor of Behavioral Economics at Yale University, his weight-loss story ended with the discovery of a successful goal-setting tool and his mission lives on today at stickK: to empower others with the tools and resources they need to achieve their personal goals.

What Dean Karlan discovered was the behavioral power of what we now refer to as a Commitment Contract. Through personal experience and academic research,* Dean found that people were significantly more successful if they signed a contract obliging them to achieve their goals.

On a mission to make this powerful goal-setting tool available to people around the world, Dean bounced his envisioned online goal-setting platform idea off of his colleague Ian Ayres, a Professor at Yale Law School and the author of Super Crunchers: Why Thinking-By-Numbers is the New Way to be Smart and Carrots and Sticks: Unlock the Power of Incentives to Get Things Done. Ian Ayres saw the power and potential of Dean's online goal-setting platform and quickly joined Dean Karlan and a current Yale MBA student, Jordan Goldberg, to create what we now call stickK.

*Ashraf, Karlan and Yin, Quarterly Journal of Economics May 2006, "Tying Odysseus to the Mast: Evidence from a Commitment Savings Product in the Philippines"
A tale of two Professors: The birth of the Commitment Contract
Ian Ayres's Weight Loss Story
"My weight has yo-yo'ed several times over the last ten years. I know how to eat a starvation diet that would sustain a weight of 160 pounds on my 6'4" frame, and I know how to eat a diet that would send my weight to over 200 pounds, but, until now, I couldn't figure out how to eat an amount of food that would keep my weight close to my healthy college weight of 180 pounds.

My cycle is like that of many of my friends. Stage 1: I wake up the day after Christmas filled with self-disgust because I weighed over 200 lbs. Stage 2: I start an extreme diet that, combined with exercise, causes my weight to plummet by one or two pounds per day, getting me down to my target weight of about 180 pounds in less than a month. Stage 3: I maintain my weight and exercise routine for another three to four months, but then stop keeping track. And the inevitable Stage 4: While I am mentally neglectful, my weight creeps back up, so that by the end of the year, I am almost always back where I started.

But in 2007, I decided to do something different. I entered into a commitment contract. The terms of which required me to pay out $500 each week if I failed to get closer to my goal of losing 20 pounds (my commitment was to lose XX pounds/week). The contract continued even after I lost the weight to ensure that I kept the weight off. Even though I really wanted to bring my weight down to 180, I decided to set a contractual goal of 185, so that I wouldn't lose money due to natural fluctuation in my body weight. Dean Karlan, another co-founder of stickK was my referee. As you'll see Dean Karlan he has a credible history of taking money from a friend who failed to live up to a contract commitment.

So if a picture says a thousand words, this graph shows you what happened: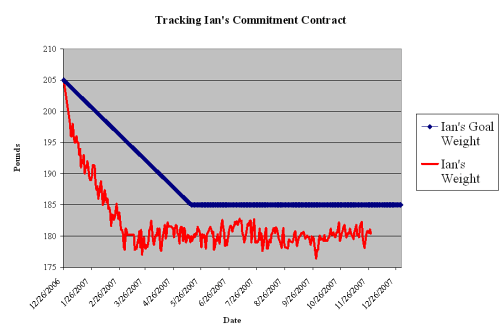 So far so good. I've lost 25 pounds and I've kept off. Even though I've put a substantial amount of money at risk (over $25,000), it hasn't cost me a penny. My actual daily weight (the red line) has remained uniformly below my goal weight (the blue line). Picking a contractual goal weight that was 5 lbs above what I really wanted to achieve has worked great for me. I have no anxiety on a daily basis that I'm going to be in violation, and if my weight goes above 182, I just buckle down a bit the next day.

A closer look at the graph shows that, as before, I was able to lose weight quickly (probably too quickly) and keep it off for a few months. But what I'm really jazzed about is how long I've been able to maintain a fairly constant weight. This is the first time in all my dieting attempts that I've been able to keep off the pounds – check out how flat that red-line is . . . right through to the end of the year!

The real value of the commitment for me is in keeping me mindful of my weight. Just a commitment to get on the scale and report your weight is a great maintenance tool. And you can bet that I'm going to rev up for another maintenance contract to make sure that the flat line continues into 2008! "
Dean Karlan's Story
"After three years of the Ph.D. program in Economics at M.I.T., I noticed that my weight was higher than it ever had been. My close friend experienced the same problem. We were equally dismayed with ourselves - how we had let our studies get the better of our bodies. Our financial circumstances were considerably leaner; we each had savings about equal to a few years of annual income (which wasn't very high, given that we were in graduate school). So we entered into a contract to lose 38 pounds each. I had to drop from 208 to 170 and my friend from 218 to 180. The targets were based on the high end of the optimal BMI (Body Mass Index) range. We set our target date based on a reasonable weight loss of 1.5 pounds per week. The stakes were steep: half of our annual income.

Here's the funny thing: at first, neither of us lost weight. Why? Because we hung around together and kept noting that neither of us was doing anything. So we renegotiated and extended the deadline! That's when we realized the obvious; that if you have the ability to renegotiate, it inevitably kills the deal. So we added a clause: any attempt to renegotiate the terms of the contract would result in an immediate forfeiture of the bet. It worked. Both of us lost the weight, weighing in at 180 and 170 in January of 2002.

We then drew up a maintenance arrangement to ensure we each kept the weight off. But we didn't follow through and each of us gained back about 20 pounds. So we put a new contract in place which required us to lose weight and keep it off. By now we had "real" jobs so our salaries had increased, but we kept the stakes the same: half of our annual income. It worked. We both lost the weight and then maintained it. At one point, my friend bounced up a bit, so he had to pay me $15,000. This payment was an investment in his ongoing health. Had I refused to accept it, no future contracts would ever work. Eventually, the contract ended by mutual agreement, and I moved on to a contract with Ian Ayres since we were founding stickK together.

The gap between ending the contract with my graduate school friend and starting a new one with Ian is telling. Without a contract in place, I gained 15 pounds over 5 months. So the first phase of the contract with Ian required me first to lose that excess weight and then maintain it. That contract is still in place, with $1,000 at stake each week. I have designated Ian as both referee and recipient of the money if I fail – with the understanding that he'll send the money to a charity of his choosing.

I also entered into another contract to exercise regularly. My referee is a visiting student who lives in my guest room. What a slave driver. According to her, playing tennis on the Nintendo Wii with my son doesn't count as exercise."
Jordan Goldberg's Story
"I suffer from a different problem than Ian. For years, like so many others, I've exercised in extreme sports. l typically go through a two to three month period during which I go to the gym every single day. Then there comes a time when I don't make it there a couple of days in a row, and boom! I fall off the wagon and soon find myself not working out at all for months at a time. There was nothing forcing me to go back to the gym.
I needed a solution to prevent my short-term self - the part of me not wanting to go the gym "just today" because I'm lazy - from beating my long-term self - the part of me wanting to be in great shape. So I needed something that would make the cost of not going to the gym too high to tolerate. And voilà - the "exercising regularly" commitment contract was born! I've pledged to go to the gym 4 days a week. I take a $100 hit each week that I do not go to the gym at least four times. The result? I haven't missed a workout yet!
I also have a commitment to watch 2 hours or less of television a week. The latter helps enforce the former (because I can't watch television in lieu of the gym!) - a very helpful technique!"